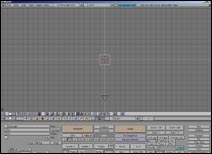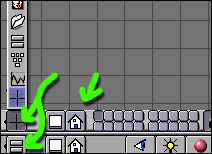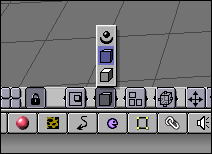 This is how it looks like when you start Blender.
Not really appealing isn't it ? But once you get used to it it gets quite enjoyable.
There are two main windows, one is your 3D view and the other one contains the options for each part :
lamp, material, texture, animation, realtime, edit,



constraint, sound, world, paint, radiosity, scripts and render.



Don't hesitate to click on each of these buttons in order to see what they're about.

Each window has a personnal menu bar, we can change the content of the window by clicking on the left button at the end of each bar ( 3D view, some editors, info, sound etc.).
A right click on the small house allows you to choose where to put the bar.



I'm not going to explain each button, it would be too annoying, especially when you know each one of them has got a keyboard shortcut. I would rather try each button to see what they stand for, you understand quite quickly what they stand for, and often you'll prefer the shortcuts.
For example these buttons on the left allow you to switch to perspective mode, but you just have to use the shortcut 5 on your keyboard for the same result.

Tutorial 2 : Changing the view